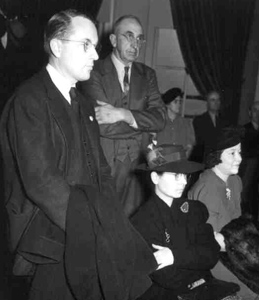 Myles F. Horton, a founder and director of both the Highlander Folk School and the Highlander Research and Education Center, was a progressive educator whose programs not only contributed significantly to the labor and Civil Rights movements, but also made him a controversial figure in Tennessee and the South for most of his adult life.
Born in Savannah, Tennessee, in 1905, Horton pursued a lifelong commitment to the use of education for social change. In 1927, while conducting a Bible school in the Cumberland Plateau town of Ozone, Horton found that bringing adults together to develop their own solutions to common concerns was an effective approach to community problems. Searching for a way to act upon this discovery, he completed his undergraduate degree at Cumberland University in 1928, studied under Reinhold Niebuhr at Union Theological Seminary, attended the University of Chicago, and toured the folk schools of Denmark. When Horton returned to Tennessee, he and a Georgian named Don West established the Highlander Folk School near Monteagle in 1932.
During the 1930s and 1940s Horton and his colleagues made Highlander a vital center of labor education in the South. Horton's improvisational teaching style and faith in the working class often made residence sessions for potential union leaders memorable experiences. Through extension programs, he aided striking coal miners, woodcutters, mill hands, government relief workers, and union members across the South; in 1937 he joined the staff of what was then called the Committee for Industrial Organization (CIO) and organized one of the first CIO locals in the southern textile industry.
In the late 1940s Horton and the Highlander staff broke with the CIO over its demand that the school compromise its ideological independence and advocacy of interracial unionism. For a time he attempted to promote a farmer-labor coalition in the South, but once again he found that racial discrimination remained a formidable barrier to such efforts. Horton and his colleagues decided to confront the problem and began holding workshops on school desegregation in 1953, nearly a year before the historic Brown v. Board of Education decision. Over the next two decades, much of Horton's work was devoted to creating programs that would help empower African American leaders and groups. During the 1960s he extended those programs to Appalachia, seeking to build a multiracial coalition pushing for fundamental change in America.
For his outspoken support of union, civil rights, and poor people's organizations, Horton endured arrests, threats, violence, and denunciations from industrialists, politicians, and segregationists. Ultimately, the State of Tennessee closed the folk school in 1962. Undaunted, Horton secured a charter for the Highlander Research and Education Center, currently located near New Market.
Married twice, the father of two children authored Long Haul (1990) and We Make the Road by Walking (1990). Horton worked through Highlander to advance his conviction that education could help ordinary people discover their capacity to take action on the issues that concerned them. Both he and the center were nominated for the Nobel Peace Prize in 1982. Horton died in 1990.
Suggested Reading
John M. Glen, Highlander: No Ordinary School (1996)