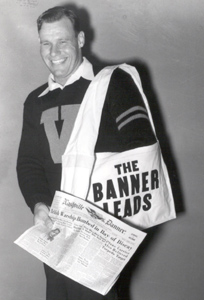 The Nashville Banner published its first edition on April 10, 1876. William E. Eastman, one of the founding partners, served as its first president; Thomas Achison, another partner, was its first editor. Other partners included two local newsmen, John J. Carter and Cicero Bledsoe, and two printers, Homer Carothers and Pleasant J. Wright.
The Banner struggled for survival during its early years. When the newspaper lost a libel suit, Major Edward Bushrod Stahlman, a local railroad executive, loaned the paper $110,000 in exchange for stock collateral. In 1893 he purchased full ownership. Three fires caused extensive damage; fire destroyed the editorial offices in October 1894.
Banner editors provided important continuity. Gideon H. Baskette was editor from 1893-1911. He was succeeded by Richard H. Yancy, who was editor until 1922. Other editors included Walter Cain (1922-29) and George H. Armistead Sr. (1929-42). During those years, the Banner grew in circulation and became one of the state's largest newspapers. The Banner maintained an independent position, supporting Woodrow Wilson in 1912 and 1916, John W. Davis in 1924, Alfred E. Smith in 1928, Franklin D. Roosevelt in 1932, and Wendell Wilkie in 1940. The paper endorsed no candidate in the other presidential races of the period.
The opposing editorial policies of Nashville's morning and afternoon newspapers also developed during the early part of the century. In 1907 Stahlman's political enemy, Senator Luke Lea, launched the Nashville Tennessean. Lea and his political associates conspired unsuccessfully to have the German-born Major Stahlman declared an "alien enemy" after World War I began.
In 1930 James G. Stahlman, Major Stahlman's grandson, became president and publisher of the Banner following his grandfather's death. Stahlman's son and James Stahlman's father had died in a boating accident in 1904. James Stahlman and his uncle, Frank C. Stahlman, purchased half interest in the Banner in 1937. James Stahlman bought his uncle's share and assumed full ownership in 1955.
Shortly after Silliman Evans Sr. purchased the Nashville Tennessean, he established a joint printing agreement with James Stahlman. In 1938, the two newspapers built a new publishing facility at 1100 Broadway, which they shared for sixty years.
Tennessee historian Hugh Davis Graham described the Banner under James Stahlman as "the voice of Nashville's business community." Furthermore, Graham says that "while Stahlman accurately and honestly reflected the conservative convictions of Nashville's businessmen, he stubbornly and successfully over the years refused to be owned by them." (1) During the Stahlman years, the Banner consistently endorsed conservative and Republican views.
On January 14, 1972, Stahlman announced the sale of the Banner to the Gannett Corporation. Six months later, he retired after sixty years of service to the Nashville Banner, forty-two of them as publisher. He died in 1976. On July 5, 1979, the Gannett Corporation announced the purchase of the Tennessean from the Evans family and sale of the Banner for $25 million to Music City Media, owned by three local businessmen: Brownlee Currey, Irby C. Simpkins, and John J. Hooker Jr. In December 1980 Simpkins and Currey purchased Hooker's interest.
In 1989, through its production partnership with Gannett and the Tennessean, the Banner became part of a new printing plant with modern color presses. The first paper was printed on the new press in September 1990. The Banner ceased publication on February 20, 1998, after 122 years of continuous operation. The Gannett Company, owners of the Tennessean, bought out Simpkins and co-owner Brownlee Currey Jr. from their 61-year-old joint operating agreement.