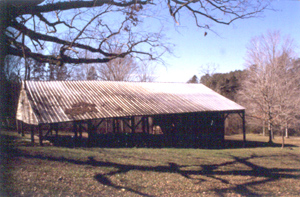 The National Campground, located in rural Loudon County, has held religious camp meetings since the late Reconstruction era. In 1873 individuals from congregations representing the Presbyterian, Cumberland Presbyterian, Baptist, Methodist Episcopal Church, South, Friends (Quakers), and the Methodist Episcopal Church faiths gathered at this spot five miles west of Greenback to establish a "union campground" where annual revivals could be held. The group incorporated under the laws of Tennessee, creating a board consisting of two trustees from each denomination. The corporation policed the proceedings and passed binding ordinances prohibiting alcohol, protecting trees and shrubbery on the grounds, and governing the use of the site for other religious and educational meetings.
The first meetings took place in 1873 under a large tent set in about five acres of land surrounded by woods and supplied with two springs of fresh water. A year later, the trustees approved and supervised the construction of a large open-shed tabernacle, with benches constructed directly in the ground. At the time of the campground's listing on the National Register of Historic Places in 1972, the only change to the tabernacle, besides periodic repairs, was the addition of electrical lighting. Historians also believed that National Campground was the only rural camp-meeting tabernacle in the state where annual revivals still took place. The structure is a remarkable artifact of local craftsmanship and religious faith in Reconstruction-era Tennessee.
Reverend W. B. "Billy" Brown, a Presbyterian minister, held the first meeting at the new tabernacle in 1874. The meetings took place both day and night for an intense two-week period in the summer; thousands came by horse and wagon to attend. This summer rite continued into modern times, with the various churches rotating their ministers as speakers, although as more and more participants acquired automobiles, people stopped camping on the grounds and merely drove to the nightly meetings.