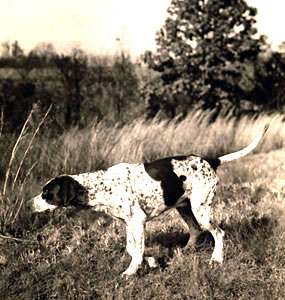 For more than 100 years, owners have brought together the top pointing dogs in the country to compete in a premier stake known as the National Field Trial Championship. Most championship competitions have been held at Ames Plantation, located near Grand Junction, about forty miles east of Memphis.
Massachusetts manufacturing mogul Hobart Ames acquired property near Grand Junction after the turn of the century, and for more than thirty renewals the stake was held on the Hobart Ames Preserve. Upon his death in 1945, the trial was continued there under the auspices of his widow, Julia Colony Ames. Upon her death in 1950 the Hobart Ames Foundation was established; its purpose was to benefit the University of Tennessee as well as provide a permanent home for the National Field Trial at Ames Plantation.
During its 101-year history, the National Championship has been cancelled only four times, and only because of inclement weather or because, in the opinion of championship officials, there were insufficient numbers of quail on the plantation courses for the dogs to have a fair chance of winning the title. The English Setter breed dominated the winner's circle in the early days of the stake, but pointers came on in the 1920s and have been the predominant winners since. Multiple winners of the stake have been few in number, and those dogs that have won the Grand Junction classic on more than one occasion have a special place in bird dog history. The first multiple winner was Sioux, which won in 1901 and 1902. Mary Montrose, Becky Broom, Feagin's Mohawk Pal, and Ariel enjoy the distinction of "three time winners," all by 1945. Since then, Paladin (1951, 1952) and Whippoorwill's Rebel (1987, 1989) have won twice, as had Mary Blue in 1929 and 1931.
The stake draws between thirty-two and forty dogs annually, and the running time consumes the better part of two weeks as dogs compete in three-hour marathon heats over the morning and afternoon course at Ames Plantation. The National Field Trial championship is one of the oldest sporting events in America.