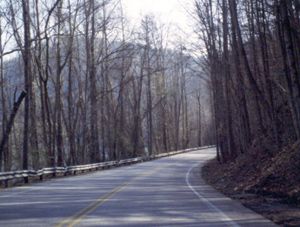 The Tennessee Valley Authority (TVA) built the Norris Freeway in 1934 as a component of its first hydroelectric project, Norris Dam. The Norris Project inaugurated President Roosevelt's most ambitious New Deal program. In addition to the dam, the generously funded agency included plans for a state park and a planned community. As construction began, the TVA soon found it necessary to build either a highway or a railroad to transport materials from the railroad in Coal Creek (later renamed Lake City) to the project site and to provide better access between its administrative offices in Knoxville and Norris. The TVA chose to build a roadway to meet both needs and, after considering a variety of roadway options, selected a freeway design.
A freeway is a highway with limited vehicular access from side roads and from abutting properties. It provides a high level roadway with easy grades and smooth curves to facilitate high-speed traffic. An outgrowth of the City Beautiful Movement of the Progressive era, a few parkways or freeways had been built in other areas, but the Norris Freeway was the first limited access highway in Tennessee and "the world's first utilitarian, limited-access road." (1) The Norris Freeway, which cost $1.5 million to build, extended 21 miles between Coal Creek in Anderson County and Halls Crossroads north of Knoxville. The freeway contained two ten-foot traffic lanes with two- to four-foot shoulders within a 250-foot right-of-way. TVA limited billboards and commercial uses along the freeway for aesthetic reasons and required 75-foot construction setbacks.
In the mid-1930s the TVA's architectural department, headed by Roland Wank, drew international attention for its planning and designs. European interpretations of Art Deco and Moderne styles had greatly influenced Wank, and he deliberately designed the TVA's public structures in a manner that did not replicate regional or even traditional architectural styles, but rather emphasized the TVA's view of itself as an experimental, modern, and forward-looking agency. Structures from tiny culverts to massive bridges, imposing power plants, and enormous dams exhibit Art Moderne influences. Structures along the Norris Freeway, which include the Norris Dam and a visitors' center, a cattle underpass, small and intermediate simple slab bridges, one haunched girder span, and one concrete arch bridge, embody a cohesive Art Moderne design. All are concrete and sleek in appearance and are characterized by smooth surfaces, streamlined rails, curvilinear wingwalls, and sweeping lines. The exception to the TVA's use of the Art Moderne style is the rustic design in its parks and for the town of Norris.
Much of the Norris Freeway is relatively intact, but development pressures increasingly threaten it. The State Historic Preservation Office has determined that 18.9 miles of the original 21-mile Norris Freeway is eligible for the National Register of Historic Places.
Suggested Reading
Carroll Van West, The New Deal Landscape of Tennessee (2001)