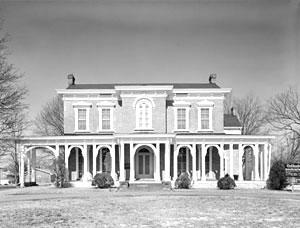 The Oaklands Historic House Museum is located in Murfreesboro. The Italianate-style mansion was the centerpiece of a 1,500-acre plantation established by the Maney family. Initially a 274-acre land grant to Ezekial White for his Revolutionary War service, the property was purchased by his commanding officer, Colonel Hardy Murfree of Hertford County, North Carolina. After Colonel Murfree's death in 1809, his daughter Sally Hardy Murfree Maney, the wife of Dr. James Maney, inherited the property.
Around 1818 a two-room brick home was built on the property. The Maneys improved the home in the mid-1820s with a two-story Federal-style addition; in the 1830s a rear wing was added. After Sally's death in 1857, Dr. Maney retired and Oaklands passed to his oldest son, Major Lewis Maney. Major Maney and his wife Adeline Cannon, daughter of Governor Newton Cannon, made one final addition, the Italianate facade, making it one of the most elegant homes in Middle Tennessee.
During the Civil War both Northern and Southern armies camped on the plantation. In June 1862 Union troops under the command of Colonel William Duffield of the Ninth Michigan Regiment occupied the site as their headquarters. On July 13, 1862, Confederate General Nathan Bedford Forrest routed the Union forces from the area and accepted the surrender of Murfreesboro from the injured Duffield in a room at Oaklands. In December of that year, Confederate President Jefferson Davis and his aide, Colonel George W. C. Lee, son of General Robert E. Lee, stayed with the Maneys while visiting troops in the area.
After the Civil War the family sold the property piece by piece. In 1884, two years after the death of her husband, Adeline Maney sold the home and 200 acres. The home passed through three other families before it became vacant in 1954. The Oaklands Association, created in 1959, restored the home for use as a house museum. Listed on the National Register of Historic Places, the plantation home is open to the public.