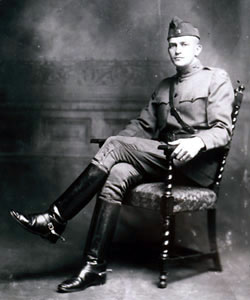 With America's declaration of war on April 6, 1917, a general mobilization of U.S. Armed Forces was ordered. War Department General Order #95 on July 18, 1917, created a National Guard division, designated the Thirtieth Division, to be filled by Tennessee, North and South Carolina National Guard troops.
Camp Sevier (named for John Sevier) in South Carolina was established as headquarters and concentration point for the Thirtieth Divisional Camp. Once clearing of the woods and construction of camp buildings was completed, military training began. Artillery regiments, lacking armaments, trained with wooden cannon. The infantry trained in tactics of trench warfare and offensive tactics of open warfare. "Old Hickory," the affectionate nickname for Andrew Jackson, was selected as the Division's official name. Unit insignia featured an "H" within a horizontal oval "O"; the three Xs within are Roman numerals for "30."
In April 1918 the Thirtieth left for Camp Mills, New York; it sailed to England, then France. Infantry regiments were sent to train with the British Second Army in Belgium, receiving instruction in trench warfare, patrol, and gas attacks. Remaining with the British army, they participated in the September 29 drive to break the Hindenburg Line. The Thirtieth Division's infantry advanced continuously until October 19, when they were then pulled back for rest.
Division artillery regiments and support units in France trained on the French 75mm cannon. Combining with other U.S. Divisions, they created the "All-American Army" and participated in the September 12 first "all-American drive" on the St. Mihiel Salient leading up to the Meuse-Argonne Offensive and Armistice on November 11, 1918. Thus, the Old Hickory Division served under both the British and American flags in World War I.
During World War II the Thirtieth Division, again known as the Old Hickory Division, compiled a distinguished fighting record in the European Theater.