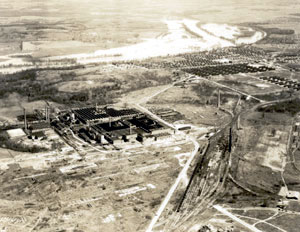 The town of Old Hickory is a planned industrial complex and community in Davidson County that dates to January 29, 1918, when the DuPont corporation and the federal government agreed to build a massive factory and town along Hadley's Bend of the Cumberland River. As planned, the factory had nine separate units, each with the ability to produce one hundred thousand pounds of gunpowder daily, and included hundreds of buildings within the site. At the time of its construction, it was the largest industrial facility in terms of employees and sheer scope in the state's history.
To house the thousands of workers needed at the factory, DuPont designed a permanent village, initially called Jacksonville to honor Andrew Jackson, which had over three hundred dwellings by November 1918. These were reserved for company foremen, supervisors, and officials. Many homes were utilitarian, but substantial ones reflected architectural elements from popular revival styles. A "temporary" village contained over five hundred residences where common laborers lived, with African Americans segregated into one area while another forty-one large buildings housed a Mexican community of some three thousand people.
The DuPont village was designed to be self-sufficient, providing a hospital, churches, gymnasiums, city hall, police station, first aid stations, fire hall, theaters, bank, commissary, mess halls, and a restaurant. A hotel could house up to four hundred visitors. The YMCA built separate facilities for African Americans and whites while the YWCA built a quarters for white women. Historian Stanley Horn observed: "They had 56,000 men (and women) on the payroll and they were recruited from everywhere. The plant was so big and had so many people on its payroll that Nashville was just turned around." (1)
Two months after the November 1918 armistice, DuPont officials and the federal government closed the gunpowder factory; by the end of 1919, only five hundred lived in a place that had claimed as many as 35,000 to 56,000 workers a year earlier. In 1920 the Nashville Industrial Corporation bought the complex for about $3.5 million; three years later, it sold the complex to DuPont officials, who converted it into a rayon factory, constructing a cellophane installation by the end of the decade.
DuPont acquired a large part of the factory village and changed the community name to Old Hickory, again in honor of Andrew Jackson. By 1925 the DuPont Rayon Plant was in production; for the next twenty years the corporation operated Old Hickory as a company town. Many extant public and commercial buildings in the town date to this post-World War I era, including the Colonial Revival-style post office (1934) designed by federal architect Louis A. Simon, and the Colonial Revival-style library, built in 1937. Not until 1946 did DuPont begin to sell its homes to employees, ending the tradition of company control over the townscape.