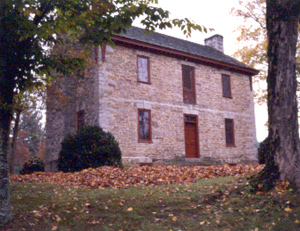 Ramsey House, the home of Colonel Francis Alexander Ramsey (1764-1820), was built between 1795 and 1797 by master carpenter and cabinetmaker Thomas Hope. Colonel Ramsey migrated to the North Carolina frontier from Gettysburg, Pennsylvania, in 1783. Settling first in the Watauga area, within a decade Ramsey had purchased land along the forks of the French Broad and Holston Rivers in Knox County.
Ramsey House was constructed just inland from the forks of the rivers at a site known as "Swan Pond." The pond, formed by a beaver dam, was a landmark for early hunters and travelers; even after the pond was drained, the name continued to be linked to the Ramsey House property.
In some respects, the house Hope created is a traditional late Georgian-style "I-house," with a simple three bay, central hall design. Ramsey House, however, is exceptional for its walls of pink marble, the detailed stringcourse of blue limestone which circles the house, the marble keystones and quoins, and the intricately carved consoles at the roof corners. This was Englishman Thomas Hope's first commission upon arriving on the Tennessee frontier from Charleston, South Carolina–a commission which would convince prominent East Tennesseans to seek his skills, making Hope one of Tennessee's most important early craftsmen.
"The most costly and most admired building in Tennessee," according to the 1800 federal census, served one of the most revered early East Tennessee families admirably for three generations. After the Civil War, however, the house was sold and began to deteriorate. In 1952 the Association for the Preservation of Tennessee Antiquities' Knoxville Chapter purchased the house and one acre of land in order to preserve this architectural and historic landmark. Today, the Ramsey House property has increased to more than ninety acres; the house is fully restored and open to the public.