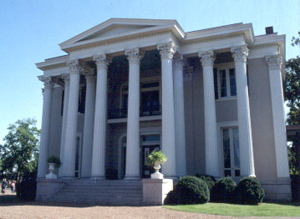 The mansion Rattle and Snap at Ashwood in Maury County is considered one of the most emphatic examples of Greek Revival plantation architecture in Tennessee. George Polk's elaborate Corinthian mansion is the largest and most pretentious of the great Maury County plantations, and its monumental front facade of ten massive columns was a conspicuous display of the wealth and taste of one of the region's largest cotton planters.
George Washington Polk, one of the five sons of Colonel William Polk of North Carolina to establish large farms in Maury County, arrived on his father's 5,648-acre tract at Ashwood in 1840. By 1843 he was making arrangements for large-scale improvements on his quadrant of the parcel and soon began construction of his magnificent home. Polk slaves cut the timber, hewed the limestone, and dug the clay and burned the thousands of bricks needed for the house. Woodworking plants from the upper Ohio and iron foundries from Cincinnati and New Orleans provided finished materials. The house was completed in 1845. George Polk called it "Rattle and Snap," after the game of chance in which his father supposedly won the Ashwood tract from the governor of North Carolina.
Rattle and Snap reflects the pinnacle of Greek Revival architecture in Tennessee. The L-shaped house is distinguished by its monumental facade with ten great Corinthian columns supporting a heavy pedimented portico and cornice. The stately edifice rests on a dressed stone foundation and is topped by a shallow hipped roof. The east porch has a delicate iron balcony with a lacy grillwork frieze, probably shipped from New Orleans by Polk's factor; the west or garden front has a portico supported by "Temple of the Winds" columns. The elaborate interior features a large entrance foyer and a double parlor separated by more Tower of the Winds columns. Exquisite plaster cornices and ceiling medallions are featured in the principal rooms. The name of the architect or designer is unknown.
His fortune devastated by the Civil War and the freeing of his slaves, George Polk sold the property to J. J. Granberry in 1867. The Granberrys, who occupied the place for the next half-century, renamed the house Oakwood Hall. In 1919 the farm was sold to two other Maury County planters, and for many years, farm tenants occupied the house. In 1953 Mr. and Mrs. Oliver M. Babcock Jr. purchased and restored it. After several subsequent changes of ownership, Amon Carter Evans, former publisher of the Nashville Tennessean, acquired Rattle and Snap. Over the next three years, Evans carefully restored the mansion to its original grandeur. The house, a National Historic Landmark, is open to the public.