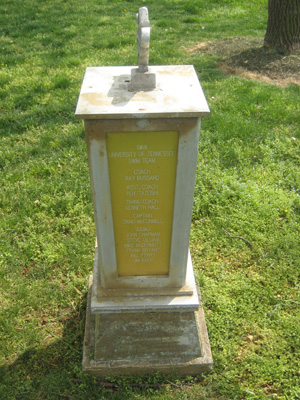 Ray Bussard, nationally recognized swim coach at the University of Tennessee, was born on August 12, 1928, in Hot Springs, Virginia. After attending Ohio University on a football scholarship, Bussard transferred to Bridgewater College in Virginia, where he received a B.A. degree in physical education and was the 1952 National AAU All-Around Champion in track and field. Bussard coached football, basketball, baseball, and track at schools in Virginia before moving to Chattanooga in 1959. There he coached at Chattanooga and Red Bank High schools and became aquatics director for the city's summer swim programs.
In 1967 Bussard joined college coaching ranks when the University of Tennessee at Knoxville hired him to build a swimming program. At the time UT had not had a swim program since 1959. His first team, composed entirely of freshmen, concluded the 1968 season with a surprising second-place finish in the Southeastern Conference. The next year, the Volunteers won the SEC championship, and Tennessee swim teams began a decade of domination that saw seven straight Southeastern Conference titles and culminated with a national championship in 1978. During those years Bussard coached two Olympic gold medalists, Dave Edgar in 1972 and Matt Vogel in 1976.
Bussard became known for the added color he brought to the sport of swimming. Tennessee swimmers donned coonskin caps and poured jugs of water from the UT Aquatic Center into their opponents' pools before meets. At home meets, Bussard featured the Vol Timettes, women students who served as timers and scorekeepers, an innovation that many schools copied.
Bussard was named NCAA Coach of the Year in 1972 and 1978, and was SEC Coach of the Year five times. He was the sprint coach for the U.S. swim team at the 1984 Olympics in Los Angeles. That same year, he received the Outstanding Coach of the Year award from the American Swim Coaches' Association, and the College Swimming Coaches Association honored him with the National Collegiate and Scholastic Swimming Trophy for outstanding contributions made to the sport. In 1988 Bussard was inducted into the Knoxville and Tennessee Sports Halls of Fame. In June 1988 Bussard retired from the University of Tennessee, where his record was 252-20.