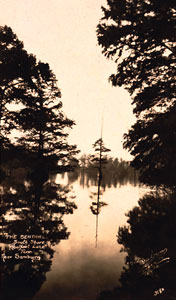 Reelt Lake State Resort Park
This three-hundred-acre state park on an eighteen-thousand-acre lake is located in the northwest corner of Tennessee. The New Madrid earthquakes of 1811-12 probably enlarged a series of oxbow lakes that had existed here long before. Permanent settlement was slow to come to the lake area due to the frequency of flooding and "unhealthy" reputation the lake had gained. An account from 1848, for instance, mentioned only a single family living along the lake. But the region was renowned for its hunting. Allegedly Davy Crockett killed 105 bears in the lake area between 1825 and 1826. In time, however, the people living around the lake fell into two groups. Those on the west side, between the lake and the Mississippi River, typically practiced plantation agriculture, while those on the east side were fishermen and subsistence farmers.
After the Civil War, the timber industry harvested much of the lumber in the region. One lumberman, James C. Harris of Tiptonville, announced in 1899 that he "owned" the lake and that he planned to drain it for further development. Harris's pronouncement eventually led to the violence of the infamous night riders of Reelfoot Lake affair in 1908. Legal battles over ownership continued until 1913, when the Tennessee Supreme Court declared the lake navigable and within the public domain.
The move toward creating a state park occurred in the 1920s due to lobbying from several citizens and local officials as well as the state government's desire to end the legal fight over the ownership of the lake. Donald V. Sabin and his wife Nonie Rhoads Sabin, who grew up in Union City, opened a photography studio there in 1919. They specialized in people and topics from the Obion and Lake Counties area but especially focused their attention on the natural beauty of Reelfoot Lake. In 1923 the Sabins offered a series of three hundred photographs of Reelfoot Lake to the State of Tennessee. State officials declined to purchase the collection, but realized that the Sabins' offer was an important example of local interest in the preservation of Reelfoot Lake. Two years later, the state purchased property surrounding the lake and established the Reelfoot Lake Park and Fish and Game Preserve.
In the 1960s to 1980s the state instituted a series of improvements, including a visitor's center/museum, lodge and restaurant, and an airplane landing strip, that led to the park's designation as a State Resort Park. Today the park is popular with fishermen and nature lovers, who especially enjoy looking for the park's small resident population of American bald eagles. The Tennessee Wildlife Resources Agency successfully introduced nesting eagles to the park in 1981.
Suggested Reading
Mary Locker and Catherine Elick, "The Turbulent Past of Reelt Lake," Tennessee Conservationist (May/June 1987): 17-20; Obion County-Union City Museum, Sabin: A Time Returned: 1919-1924 (1986)