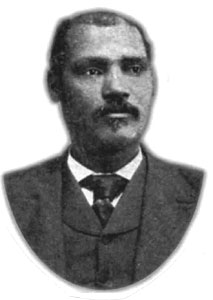 Richard Henry Boyd, a founder of both the National Baptist Convention and the National Baptist Publishing Board, was born in Texas late in the antebellum era. After receiving an education at Bishop College, an institution for black Baptist men supported by white northern Baptists, in Marshall, Texas, Boyd moved to Nashville in the mid-1890s and became instrumental in the formation and early years of the National Baptist Convention. In 1896 Boyd and a group of nine other men chartered the National Baptist Publishing Board. Over the next twenty-five years, it grew into the nation's largest African American publishing enterprise. Boyd's company supplied black churches with religious literature, church pews, church fans, and a variety of other items for church life. The board and its subsidiary agencies employed over 110 African American workers, making it a substantial black enterprise. Boyd also either started or supported the National Negro Doll Company, the first business to market black dolls to black consumers; the One-Cent Savings Bank, a financial institution which met the needs of small African American depositors; the Globe Publishing Company, which published the Nashville Globe, the city's black newspaper; the National Baptist Union-Review, an African American denominational newspaper; and the Home Mission Board of the National Baptist Convention, which distributed religious literature and supported missionary efforts.
As vice-president of the National Negro Business League, Boyd represented the trend in African American thought that supported Booker T. Washington's philosophy of "industrial education" and emphasized the acquisition of property and economic independence. At the same time, as early as the 1890s, Boyd warned his fellow black Tennesseans that whites intended to turn the clock back on black civil rights. When Nashville began enforcing segregated street cars in the 1900s, Boyd and fellow ministers and businessmen supported a boycott of the public transportation, thus initiating a tradition of political protest. Meanwhile, they attempted to counter segregation by forming the Union Transportation Company, a black-owned streetcar franchise. The boycott and the company eventually failed, but Boyd cemented his reputation as a "race man" through his work in fighting Jim Crow.
In the last decades of his life, Boyd became involved with an ugly controversy over the independence of his major business, the National Baptist Publishing Board. In 1915 Boyd and the forces affiliated with him split from the National Baptist Convention over this issue and formed the National Baptist Convention of America. Boyd's latter years were spent in fighting internal denominational battles. But this did not prevent him from continuing to comment on issues of the day, including the beginnings of the great African American migration out of the South during and after World War I. Boyd died in 1922, but through the legacy of the National Baptist Publishing Board his influence lives on.
Suggested Reading
Paul Harvey, "The Holy Spirit Come to Us…Richard H. Boyd and Black Religious Activism in Nashville," in Tennessee History: the Land, the People, and the Culture, ed. Carroll Van West (1998), 270-86