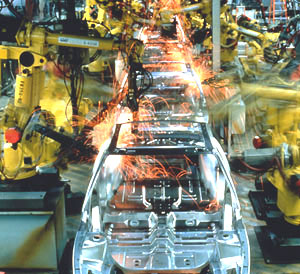 On July 31, 1985, Governor Lamar Alexander announced that a new General Motors company–Saturn–would build a giant industrial complex in Spring Hill, a small town located thirty miles south of Nashville on U.S. Highway 31 in northern Maury County. Spring Hill had only recently passed the 1,000 population mark. The site of camp revivals in the early 1800s, the community was recognized primarily for its scenic agricultural landscape and its varied nineteenth-century domestic architecture.
Following the 1985 announcements that Spring Hill had been chosen over thirty-seven other sites, the community almost immediately began its metamorphosis. Land prices escalated overnight, and farms and homes sold at spectacular prices. Spring Hill, along with Columbia and Franklin, prepared for Saturn's arrival with plans for new and improved infrastructure, apartments, homes, and support and satellite businesses. By July 1986 excavation of 2,400 acres had begun for the 4.3-million-square-foot factory.
General Motors created the Saturn Corporation to reform the American automobile industry, which was languishing from continual increases in Japanese import sales. The name was derived from the Saturn space project that propelled the United States ahead of the U.S.S.R. in the race to the moon.
GM and the United Auto Workers joined forces in an unprecedented cooperative effort to redesign the automobile manufacturing process, including its technology, labor, sales, and service techniques. Two groups within GM began a long-range study of companies considered leaders and innovators in quality, service, and cost. They also enlisted ideas and comments from people in all aspects of the automobile industry as well as a cross-section of company employees. The result was the unique team approach, which is the Saturn hallmark.
The first Saturn rolled off the line on July 30, 1990. Later that year Popular Science named Saturn one of "The Year's 100 Greatest Achievements in Science and Technology." By 1991 Saturn ranked first in sales per outlet, marking the first time in fifteen years that a domestic brand had held that honor. Accolades accumulated, and sales surpassed expectations, producing a profit for the company by 1994. By 1995 the Spring Hill plant had produced one million cars. The company's successful product and approach had altered American automotive history. By 2001 Saturn had sold 2.2 million vehicles. It had 7,800 employees at its Spring Hill plant while another 2,600 workers made the new Saturn L-series sedans and wagons at a second plant in Wilmington, Delaware. The company will release its new sports utility vehicle in 2002.
The changes required to accommodate Saturn have been a challenge for state and local government, private enterprise, and individual residents in Spring Hill and surrounding communities. Not all of the ensuing growth and development have been welcome, nor have they been planned as well as longtime residents and newcomers alike might wish. The relocation of many individuals and families from GM's other facilities has changed the demographics of local society as much as construction has altered the landscape. From its inception, however, the Saturn Corporation made unprecedented efforts to orient and ease the transition for its relocated employees and its neighbors. Classes, town meetings, tours of the facility, landscape design to buffer intrusion, additional environmental controls, and contributions to many local charities and concerns have helped to ease some of the concerns and criticisms. Saturn also donated Rippa Villa–the community's grandest plantation, where the Nathaniel Cheairs family hosted Confederate officers on the morning of November 30, 1864, prior to their departure for the battle of Franklin–to Maury County, along with funds to assist in its renovation as a visitor's center. The architecture of the past and future face each other across U.S. Highway 31, and while some vestiges of Spring Hill's pre-1985 history remain, its future is inextricably bound to the fortunes of Saturn.