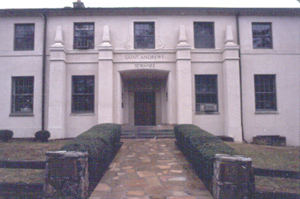 St. Andrew's-Sewanee School
St. Andrew's-Sewanee School is the result of the 1981 merger of two older institutions, and it builds upon the heritage of three Episcopal schools founded on Monteagle Mountain in Franklin County. The junior department of the University of the South, opened in 1867, went by several different names and enrolled students of various ages but existed longest as the Sewanee Military Academy. St. Mary's School for Girls functioned from 1896 to 1968 under the auspices of the Sisters of St. Mary's before the Order ceased its teaching activities. St. Andrew's School, started by Episcopal monks from the Order of the Holy Cross in 1905, began as an elementary school but eventually concentrated on secondary education. Though the schools were quite different in mission in their earlier decades, changes that occurred on the three campuses in the late 1960s led to growing similarities. When St. Mary's closed, both SMA and St. Andrew's became coeducational. In 1970 the Order of the Holy Cross and its monks withdrew from St. Andrew's and turned the school over to a board of trustees. That same year the military aspect of SMA was dropped and its name changed to Sewanee Academy. The evolution of distinctly diverse schools into two campuses attracting the same types of students led to merger on the St. Andrew's campus immediately adjacent to the domain of the University of the South.
St. Andrew's-Sewanee maintains its Episcopal tradition in a location of natural beauty on the Cumberland Plateau. The school supplements its college-preparatory curriculum for day and boarding students with a range of activities in the arts, athletics, and outing programs. With deep roots in the nineteenth century and realignment and rejuvenation in the late twentieth century, the school seems well prepared for twenty-first-century challenges.
Suggested Reading
Ridley Wills II, "The Old Boys Schools of Middle Tennessee," Tennessee Historical Quarterly 56 (1997): 56-69