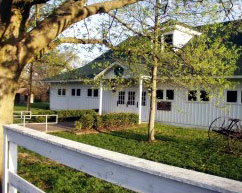 Tennessee Agricultural Museum
Chartered by the general assembly in 1957, the Tennessee Agricultural Museum is located at Ellington Agricultural Center in south Nashville. The museum is housed in a former horse barn which was once part of the Brentwood Hall estate of financier Rogers Caldwell. The museum features artifacts relating to the pioneering days of Tennessee farm families ranging from early farm tools and equipment to household goods and machines that were used by farm women and their children. The artifacts date from the beginning of Tennessee agriculture to objects representing agricultural developments during the mid-twentieth century. The museum is also home to the Tennessee Agriculture Hall of Fame, the oldest such institution in the nation.
For many years, little funding was allotted the museum, and the facility was open only on an occasional basis. During 1980-81 the building was renovated, and the museum opened three days a week with a part-time curator. Guided tours begun in 1981 soon made way for educational programs with hands-on activities for students. Finally in 1984 a full-time curator was appointed, and the museum opened on a daily basis. Attendance doubled, then tripled, and kept growing. Teachers took advantage of these opportunities to enhance their studies of Tennessee history.
Museum programs, coordinated with a group of teachers, are of a seasonal nature and include both pre- and post-worksheets for teachers covering several items on the curriculum guides for each grade level. The museum hosts several events each year, including shingle riving, basket weaving, pottery throwing, cow milking, sheep shearing, and Tennessee Walking Horse demonstrations.
A museum association was organized in 1988 to establish direction, offer financial support, and provide a resource for community involvement. One of the major accomplishments of the association has been the restoration of several log cabins adjacent to the main museum building. The cabins, once tenant houses of the Caldwell estate, are an important part of the visual and hands-on educational programs of the museum.