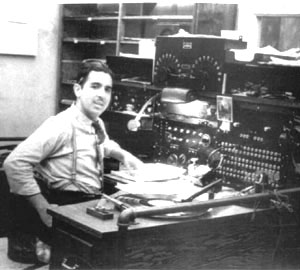 Tennessee Ernie Ford, radio announcer, singer, and television personality, was born Ernest Jennings Ford on February 13, 1919, in Fordtown, Sullivan County, and raised in nearby Bristol. Ford began a radio career at Bristol's WOPI, where he worked as an announcer before studying voice at the Cincinnati Conservatory of Music.
During World War II Ford served as a bombardier in the Army Air Corps, then settled in California, where he worked for KFXM in San Bernadino and later KXLA in Pasadena. During this time, he adopted the name "Tennessee Ernie" and developed the "Pea Picker" character he made famous. Ford introduced songs in an exaggerated hillbilly voice and occasionally sang along with them. Cliffie Stone recognized Ford's potential and featured him on the Hometown Jamboree, KXLA's new television show.
Ford's solo singing career took off in 1949, when he signed with Capital Records. During that year, he had several hits, including "Tennessee Border" and his first number-one-selling song, "Mule Train." In 1950 he made his debut performance at the Grand Ole Opry and continued his success with hits like the chart-topping "Shotgun Boogie."
In 1954 Ford moved to network television as the game show host of NBC's College of Musical Knowledge. On this show he debuted his 1955 recording of "Sixteen Tons," the coal-mining protest ballad which became one of the fastest and biggest sellers in the record business at that time. The College of Musical Knowledge was followed by NBC's The Ford Show, which aired from 1956 to 1961. Beginning in 1956, Ford recorded several highly successful gospel albums, including Hymns and Great Gospel Songs, and continued to make television appearances on numerous shows such as the Jack Benny Program and I Love Lucy. In 1974 he went to Russia as the featured performer in the Country Music USA show sponsored by the U.S. State Department.
During his career Ford recorded more than one hundred country and gospel albums. As a pioneering performer, he adapted his country style for popular audiences and made a successful transition to television. Ford was inducted into the Country Music Hall of Fame of 1990. He died of liver disease on October 17, 1991. A small, white frame house in Bristol, where Ford once lived, has been turned into a historic house museum about his life in Tennessee and his contributions to American popular music.