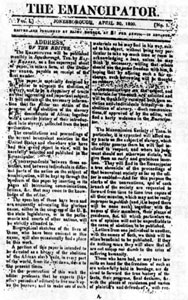 Published by Elihu Embree at Jonesborough in 1820, the Emancipator was the first newspaper in the United States solely devoted to the abolition of slavery. Embree had previously published a weekly newspaper, the Manumission Intelligencer, in 1819, and it was followed by the Emancipator from April to October 1820. According to Embree, the purpose of the Emancipator was "to advocate the abolition of slavery and to be a repository of tracts on that interesting and important subject."
The Emancipator advocated gradual emancipation and colonization of slaves, reprinted the proceedings and addresses of the Manumission Society of Tennessee, and published letters, articles, and poetry related to the abolition of slavery. In his newspaper, Embree celebrated slave owners who, like himself, had freed their slaves, and he recounted the "pitiful conditions" of many slaves in order to expose the institution and inhumane slave owners.
The annual subscription rate of the Emancipator was one dollar per year, and it had reached a circulation of over two thousand by October 1820, with deliveries made to Boston and Philadelphia, as well as in the South. Embree mailed copies of his paper to the governors of all the southern states, but it was not well received. Many southerners erroneously thought Embree was an agent of northern abolitionist groups, sent to Tennessee to stir up trouble with his publication.
The paper ceased publication with Embree's illness in the fall of 1820; the last edition was published on October 31. The Emancipator was reprinted in its entirety by B. H. Murphy of Nashville in 1932.