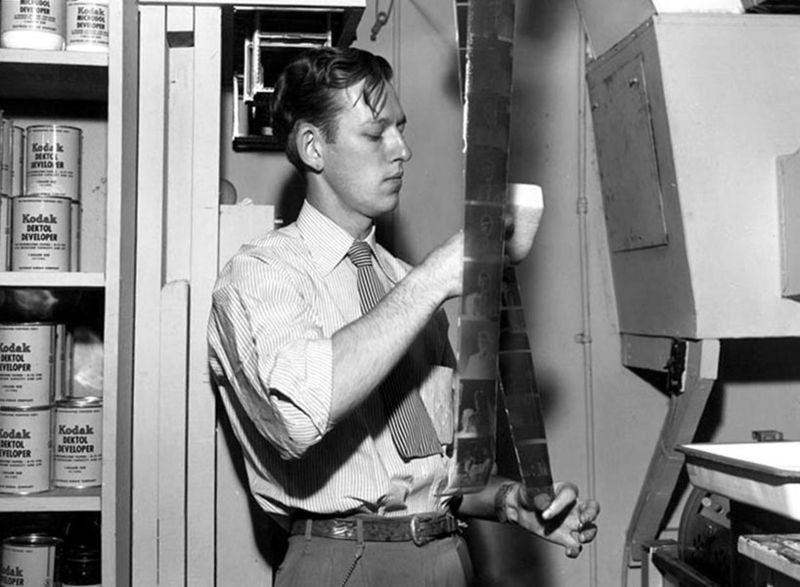 James Edward "Ed" Westcott
James Edward "Ed" Westcott, Oak Ridge's official photographer during the Manhattan Project in the 1940s, was born in Chattanooga, Tennessee, on January 20, 1922. Ed Westcott's photography is featured in nearly every book, magazine, documentary, and newspaper article about the top-secret mission. His photographic record aids our understanding of the great tragedy of war and the innovation to win it.
Westcott's parents encouraged him at a young age to pursue his photography interests and bought him his first camera when he was 12 years old. His family later made the decision to move to Nashville, where Westcott graduated from high school in 1939. He worked at various portrait studios developing film, but tensions from the world war overseas soon earned him a position as a photographer for the U.S. Army Corps of Engineers headquartered in Nashville.
While taking pictures of the site selection and construction of military camps, airports, and dams throughout Tennessee and Kentucky, Westcott was also dispatched to photograph a classified location intended to become a prisoner of war camp. Although only 20, his expertise and avid skills caught the eye of his superiors. Recognizing his professionalism, they offered Westcott the chance to transfer to an assignment in East Tennessee that would alter the course of history: the Manhattan Project.
Officially hired as the twenty-ninth employee of the Manhattan Project team, Westcott captured the construction in Oak Ridge of the plants Y-12, K-25, and S-50 used to separate uranium-235 from the more abundant uranium-238 to create something that had never been made before — the atomic bomb. He also documented the world's first continuously operating nuclear reactor, the X-10 Graphite Reactor, which is now a National Historic Landmark.
This innovative science and the extensive amount of manpower at Oak Ridge led Westcott to take photographs of nearly every inch of the 59,000-acre site and many of the thousands of employees who were devoted to its secrecy. While officially tasked with that responsibility, Westcott took pride in not only making sure the history of the project was documented but also the day-to-day life of the people who made it a success.
After the war, Westcott continued to work in Oak Ridge as a photographer for the U.S. Atomic Energy Commission (AEC). Transferred to Germantown, Maryland, in 1966, he traveled across the country taking photographs of nuclear reactors, promoting the peaceful uses of atomic energy. While accompanying AEC commissioners to meetings, Westcott photographed seven United States presidents including John F. Kennedy, Lyndon B. Johnson, Richard Nixon, Gerald Ford, Jimmy Carter, Ronald Reagan, and George H.W. Bush.
After later working for AEC's successor agencies, the Energy Research and Development Administration and the eventual U.S. Department of Energy, Westcott retired in 1977. He returned to Oak Ridge, and from time-to-time assisted as a special project consultant and photographer to DOE's various missions in the Secret City. Westcott resided in Oak Ridge until his death on March 29, 2019.
The National Archives in Washington, D.C., holds more than 15,000 of Westcott's negatives and, in Oak Ridge, exhibits of his iconic photographs are at the American Museum of Science and Energy, the Oak Ridge History Museum, and the Y-12 History Center in the New Hope Center at the Y-12 National Security Complex. They also appear in many offices and businesses in Oak Ridge.
Westcott's artistic documentary photographs aid the understanding of the history of Oak Ridge and atomic energy in the U.S. In early 2019, Westcott was nominated for a Presidential Medal of Freedom for his dedication and the quality of his life's work in photography. Winners will be announced in November 2019.