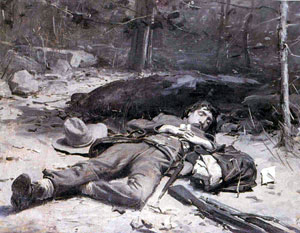 Gilbert Gaul, late nineteenth-century artist, is best known for his depictions of military topics, particularly scenes of the Civil War. Born in Jersey City, New Jersey, he entered the National Academy of Design in New York City at age seventeen and emerged as one of the era's leading illustrators. Gaul moved to Tennessee and established a studio on property he inherited near Fall Creek Falls in Van Buren County.
Gaul published illustrations in Harper's and Century Magazine. His Civil War paintings of both Union and Confederate soldiers portray a variety of experiences from fierce battles to quiet moments in camp. Works such as Holding the Line at all Hazards and Charging the Battery captured the war's severity and brought him awards from the American Art Association and the 1889 Paris Exposition. The height of his career came in 1893, when he received numerous awards at the World's Exposition in Chicago. Gaul also produced several landscape paintings including Rafting on the Cumberland River (Tennessee State Museum).
Gaul's popularity eventually began to wane, and by 1904 he had accepted a teaching position at Cumberland Female College in McMinnville. He soon opened a studio in Nashville and published the first in what was to be a series of paintings titled With the Confederate Colors in 1907. The project, however, met with little success, and subsequent paintings were canceled. Gaul then left Tennessee and eventually returned to his native New Jersey, where he produced paintings of World War I before his death.
Suggested Reading
James F. Reeves, Gilbert Gaul, Exhibition catalog, Fine Arts Center at Cheekwood and Huntsville Museum of Art, 1975; Gilbert Gaul, American Realist, Exhibition catalog, Tennessee State Museum and Dixon Gallery and Gardens, 1992