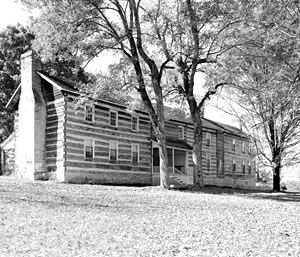 Overlooking the sulfur springs at Bledsoe's Lick in the Castalian Springs community, the sprawling log inn Wynnewood was built in 1828 for travelers passing between Knoxville and Nashville. The builders, Alfred R. Wynne, Stephen Roberts, and William Cage, located it on property owned by Wynne's wife, Almira Winchester Wynne, daughter of General and Mrs. James Winchester of Cragfont.
When the east-west traffic shifted south of the Cumberland River to Wilson County, the Wynnes purchased the interest of the others and made the inn a home for their family. Succeeding generations lived in the building until 1971, when the Tennessee Historical Commission acquired it for preservation and interpretation as a historic site.
The Wynnes operated the facility as a summer season spa, where patrons drank the water and took mineral baths under the direction and care of resident physicians. The family built additional rustic accommodations apart from the main house and added recreational facilities for bowling and tennis, but patronage remained modest.
During the latter 1800s and early 1900s, the Wynnes often leased the property to others who operated it as the Castalian Springs Hotel. With the opening of a post office in 1837, the community changed its name from Bledsoe's Lick to Castalian Springs. The name Wynnewood was not used until the early 1940s, when it was chosen to distinguish the property from the community and to recognize the Wynne's long tenure there.
During the Civil War, troops from both armies frequently visited the property. Some stopped to see the stump of the hollow sycamore tree in which Thomas Sharp Spencer spent the winter of 1778-79 alone while on a long hunt from southwest Virginia. Adjoining the springs is the sixteen-acre site of the pre-Columbian Indian village known as Chaskepi. On a hill northwest of Wynnewood was Bledsoe's Fort, built in 1784 by Isaac Bledsoe, who discovered the springs while exploring the area in 1772.