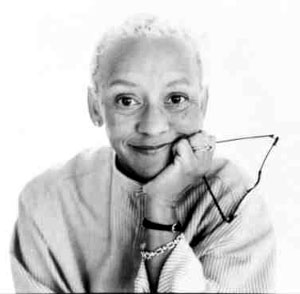 Yolande Cornelia "Nikki" Giovanni
Writer Nikki Giovanni expresses her version of the late twentieth-century African American experience through poetry and essays. Though her parents left Knoxville after her birth, Giovanni returned for summers with her grandparents and graduated from Knoxville's Austin High School before entering Fisk University, her grandfather's alma mater. She came of age at the height of the civil rights and black power movements, and her political activism in combination with her creative writing brought her to the forefront of the Black Arts Movement. Giovanni has maintained that high profile for three decades through her writing and her teaching.
Giovanni's early poetry, published in Black Feeling, Black Talk (1968), Black Judgment (1969), and Re:Creation (1970), came out after brief stints in graduate programs at the University of Pennsylvania and Columbia University. The intense nature, reflective quality, and disciplined writing of this period led to public recognition and the inclusion of her work–and often the poem "Knoxville, Tennessee" from her first volume–in textbook anthologies in American literature.
During the 1970s Giovanni released several recordings of her poetry and the first of several books of poetry for children, and new collections appeared: The Women and the Men (1975) and Cotton Candy on a Rainy Day (1978). She also published essays on the black experience in Gemini (1970) and participated in discussions on the same topic published as A Dialogue: James Baldwin and Nikki Giovanni (1972) and A Poetic Equation: Conversations Between Nikki Giovanni and Margaret Walker (1974). After beginning her teaching career at Queens College of CUNY and at Livingston College of Rutgers University, Giovanni taught creative writing at Virginia Polytechnic Institute and State University in 1987. She remains a member of the English faculty there. She continues to write; recent publications include Conversations with Nikki Giovanni and Racism 101 (1994). Eighteen of her nineteen books are still in print, and she holds several honorary degrees.
Critics of Giovanni's poetry, even those sympathetic to her work, find her more often depending upon her personality than honing her craft. Certainly the message conveyed is as important as the medium to her. While the fierceness found in her early work has mellowed, Giovanni herself and many African American publications still consider her to be a messenger for the youth of her race. In 1994 she wrote the following in reference to her grandparents as the transmitters of a cultural legacy, but the idea applies to Giovanni's view of her place in American society as well: "I'm glad I understand that while language is a gift, listening is a responsibility. There must always be griots . . . else how will we know who we are?" (1)