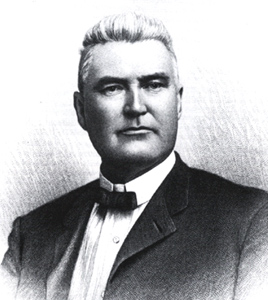 Z. Cartter Patten, prominent Chattanooga industrialist and capitalist, was born in Wilna, New York, and educated at Lawville Academy. During the Civil War, he served with the 115th Illinois Infantry and the 149th New York Infantry regiments. Patten first saw Chattanooga while convalescing from wounds suffered in the battle of Chickamauga. After the war, he and another veteran, T. H. Payne, returned to the city and opened Patten and Payne, a book and stationery store. A few years afterward, Patten sold his interests in the store and purchased the Chattanooga Times.
In 1879, with the profits from his previous businesses, Patten and a group of friends founded the Chattanooga Medicine Company to manufacture patent medicines. The first two products, Black-Draught and Wine of Cardui, proved so successful that they became the backbone of the company's prosperity for many years. In addition to his skill in selecting products, Patten possessed remarkable marketing imagination. He is remembered for the creation and distribution of the popular Cardui calendar and the Ladies Birthday Almanac.
In 1903 Patten became president of the Stone Fort Land Company, which owned and developed commercial property in downtown Chattanooga, including the city's first high-rise building, the Hotel Patten. In 1906 Patten and his son-in-law, John Thomas Lupton, founded the Volunteer State Life Insurance Company, an important regional financial institution. He was a founding director of the American Trust and Banking Company (later American National, now SunTrust); a founder and chairman of First Trust and Savings Bank; an organizer of Title Guaranty and Trust Company; and developer of the Acme Furniture Company.
Patten and his first wife, Mary Rawlings, who died young, had one daughter, Elizabeth Olive Patten Lupton. In 1901 he married Sarah Key, daughter of David M. Key, judge, former U.S. senator, and postmaster general. The couple had one son, Z. Cartter Patten Jr., who became a noted environmentalist, local historian, and longtime state legislator. The elder Patten died at his estate, Ashland, and is buried in Forest Hills Cemetery, Chattanooga.
Suggested Reading
John Wilson, The Patten Chronicle–A Chattanooga Family (1986)