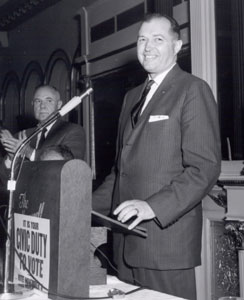 Buford Ellington, governor of Tennessee from 1959-63 and 1967-71, alternated power both times with uncertain ally Frank Clement. The differences between Ellington's first and second stints as chief executive, especially in terms of the South's ageless political issue of race, were a microcosm of the larger changes taking place across the state and region.
Born in Holmes County, Mississippi, Ellington studied religion briefly at Millsaps College in Jackson, Mississippi, before hard financial times forced him to abandon his studies. Bad economic luck did not deter his industrious nature: he edited a small newspaper in Durant, Mississippi, sold farm machinery in Memphis for several years, and supervised salesmen for the Tennessee Farm Bureau Insurance System during the depression era. In Durant, he met visiting high school teacher Catherine Ann Cheek; they married in 1929. Cheek's roots were in Marshall County, Tennessee, a locale that greatly impressed the future governor. Marshall County quickly became home to Ellington; he purchased a store in Verona and maintained his legal voting residence in the area. Ellington also farmed the hills of Marshall County. Indeed, throughout his political career he prided himself on his farming acumen and later founded an agricultural diagnostic laboratory in Nashville.
Before his election as chief executive, Ellington had long been a significant political player in Tennessee politics. As a congressional campaign manager for Joe Evins in 1946 and as state representative from Marshall County in 1948, Ellington emerged as a vital player in the Democratic Party's conservative wing, a powerful faction which included such figures as E. H. Crump and Jim Nance McCord. Ellington also hitched his political rise to another formidable Tennessee politician: Frank Clement. Ellington served as campaign manager in Clement's run for governor in 1952, and Clement later appointed him commissioner of agriculture. While assisting in the building of Clement's political machine, Ellington carefully tended to his own political future, eventually taking over the organization for his own run for governor.
Beginning in 1953, the Clement-Ellington team dominated statehouse politics for eighteen years. Relations between the two politicians were originally close, but by 1960 the relationship revealed signs of severe strain. At the Democratic National Convention, Clement pledged support for John Kennedy, whereas Ellington served as convention floor manager for longtime friend Lyndon Johnson. By 1966 the alliance had regressed to the point that Governor Clement reportedly called a special legislative session to spend surplus funds solely to avoid a tax surplus for the incoming Ellington administration. In contrast to his battles with Clement, Ellington's personal ties with Johnson remained strong. Ellington worked closely with the president on a number of matters between his two gubernatorial terms and in 1965 was appointed director of the U.S. Office of Emergency Planning.
Fiscal prudence marked both of Ellington's gubernatorial terms. During the economic boom of his first term (1959-63), he fulfilled his campaign pledge not to raise taxes while simultaneously sponsoring a one-hundred-dollar annual raise for school teachers during each year of the 1959-61 biennium. Ellington reorganized Tennessee government, consolidating and eliminating several state departments.
Although this economic conservatism reigned supreme during his second term (1967-71) as well, Ellington changed his tune on matters of race. During his first campaign for governor, Ellington had judged himself "an old-fashioned segregationist from Mississippi" and forcefully declared that he was not a "Johnny come-lately" in regard to segregation. During his second campaign for governor, he claimed that the time was ripe to "bury the word and practice of segregation" and followed his campaign apology with several progressive moves. He appointed Tennessee's first African American cabinet officer, H. T. Lockard, and created the Tennessee Human Relations Commission. Close advisors to Ellington have suggested that his service in President Johnson's administration, including a position involved in the implementation of the Civil Rights Act of 1964, transformed his view. By the end of his second term, Ellington had become a very visible national and regional player and served as chairman of both the National and Southern Governors Conferences.
Ellington died in Boca Raton, Florida, on April 3, 1972, less than fourteen months after leaving office. A number of national figures including Vice-President Spiro Agnew attended his funeral. Although sometimes criticized for his lack of political imagination, Ellington stilled Tennessee during tumultuous political times with his middle-of-the-road approach and promoted a racial moderation that was in short supply in the 1960s South.
Suggested Reading
William R. Majors, Change and Continuity: Tennessee Politics Since the Civil War (1986)