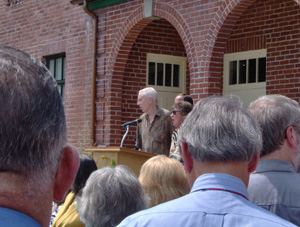 Guy Carawan and wife Candie Anderson Carawan are noted for their long association with Highlander Research and Education Center in East Tennessee, their work in documenting southern folk music, and their participation in the Civil Rights movement of the 1960s. Born in July 1927 in Los Angeles to parents native to North and South Carolina, Carawan had developed a strong interest in folk music by the early 1950s. He met and toured with many folk revivalists including Pete Seeger, Peggy Seeger, Jack Elliott, and Frank Hamilton. In 1959 Myles Horton invited him to join the staff of Highlander as music director, along with Candie, whom he married in 1961. Carawan's contributions include collecting original folk songs and integrating new forms of those songs into the social movements supported by Highlander, in part through field work in the Carolina sea islands and the mountains of eastern Kentucky.
Carawan is widely credited with contributing new lyrics to the Baptist hymn "I'll Overcome Someday" to create the essential civil rights anthem "We Shall Overcome." Carawan himself assigns primary credit to Zilphia Horton, wife of Myles and first music director for Highlander, but recalls disseminating the song to civil rights protesters in Nashville in 1960 and at the founding convention of the Student Non-violent Coordinating Committee (SNCC).
Carawan is responsible for nearly thirty albums, many in association with Candie, both of their own performances and of folk performers. His respected books include Ain't You Got a Right to the Tree of Life?, Sing for Freedom; and Voices from the Mountains.
Suggested Reading
Pete Seeger, Everybody Says Freedom (1989)