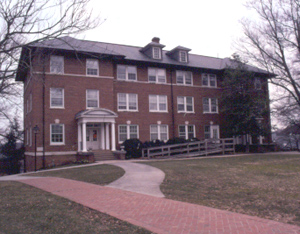 The Holston Presbytery founded King College in 1867 in Bristol and named the school for James King, an eighteenth-century settler in the region. Both the acreage and physical plant of the college have more than doubled in 130 years. The four-year coeducational institution is independently governed, but it maintains its covenant affiliation with the Presbyterian Church (U.S.A.) and the Evangelical Presbyterian Church.
The main portion of the campus comprises a quadrangle surrounded by red brick buildings of Georgian colonial design planned by C. B. Kearfott and dating from 1917. Situated on this quadrangle along with dormitories and classroom buildings are the Memorial Chapel, site of college convocations and religious services; the Student Center, which also houses the dining hall; and the E. W. King Library, with its worldwide electronic access and the college administrative offices.
The faculty and administration express their commitment to a liberal arts curriculum for their six hundred students through the offering of nineteen academic majors and the development of eight pre-professional tracks, as well as through advisory groups. The college defines its mission as the combination of academic rigor with Christian nurture and provides opportunities both for study abroad and far-ranging service projects. In its efforts to provide diversity for all undergraduates, the college supports nine intercollegiate athletic teams for men and women. King College is accredited by the Southern Association of Colleges and Schools and holds membership in the Association of Presbyterian Colleges and Universities and the Coalition for Christian Colleges and Universities.