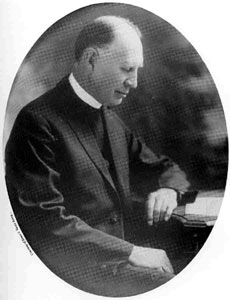 James I. Vance, longtime pastor of Nashville's historic First Presbyterian Church, the largest Presbyterian Church in the South in 1914, was voted one of the nation's twenty-five leading pulpit ministers in 1925. A great-grandson of John Sevier, Vance was born in 1862 near Bristol. He was a graduate of King College and Union Theological Seminary. After serving three other churches, Vance began his ministry at Nashville's First Presbyterian Church in 1894. Except for a ten-year tenure as pastor of the Dutch Reformed Church in Newark, New Jersey (1900-1910), Vance spent the remainder of his career at the Nashville church.
Vance received a number of honors. He was moderator of the General Assembly of the Presbyterian Church, U.S., and head of its Foreign Mission Board. He served as chairman of the Federal Council of Churches. He was also in great demand as a guest preacher in churches throughout the country.
In his ministry, in his many books, and in his community activities, Vance displayed his insights for adapting the traditional beliefs of Christianity to the issues of the day. Vance retired in 1936 because of ill health and died three years later, mourned by the community in which he had long played such a vital role. His papers and many of his books are preserved at the Tennessee State Library and Archives.