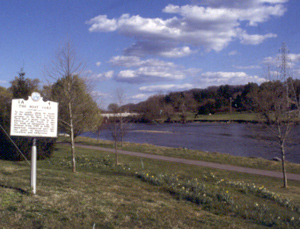 Described as the most historic, yet little known, site in East Tennessee, Long Island played a significant role in the state's early history. Situated on the outskirts of present-day Kingsport on the Holston River, the island was located on the route of the "Great Indian Warrior Path," a historic route traveled by the Cherokees, early traders and settlers, and later by wagon and stagecoach passengers. Located midway on the trail, Long Island emerged as a neutral area for settling tribal disputes.
Whites coveted the ground that Native Americans held sacred. William Cocke claimed to have bought the island when he purchased "corn rights," and, without a legal claim, he sold it to Samuel Woods in 1776. The Cherokee claim to Long Island was strengthened by the Long Island of the Holston Treaty (1777). In 1792 Samuel Woods's daughters inherited Long Island, but they made no attempts to occupy the land until 1810, after the Cherokees had ceded the island in the Dearborn Treaty (1806). Richard and Margaret Woods Netherland accepted ownership of the site in the early nineteenth century and laid plans for their 814-acre plantation. The island supported agriculture until the mid-1920s, including the financially successful Leeper Dairy Farm.
In 1925 the Leeper family subdivided the area south of Horse Creek Road (the main thoroughfare) and named the area Long Island Gardens. The community, situated across the river from the Tennessee Eastman Company, was solidly working class. Grocery stores, barber shops, dry cleaners, restaurants, churches, and an elementary school were located within convenient walking distance. The school and the "Big Field," a large open field, became the community center. Long Island grew at an astounding rate, reaching its peak between 1955 and 1963, with 517 residences and approximately 1,800 people. Although many upstanding citizens lived on Long Island, the neighborhood acquired a local reputation for violence and bootlegging.
After the mid-1960s Long Island experienced a gradual decline due to several factors. In 1967 the Holston River Bridge, which connected the island's main street to the Tennessee Eastman Company site and to Kingsport, collapsed and was not rebuilt. At the same time, the community's young adults left for other areas, followed by some older residents who moved to newer homes. Many of the latter migrants kept their island homes as rental property. Finally, the island acquired a more industrial appearance, and today a coal gasification plant stands on the site of Big Field and the old elementary school. Over the course of its history, Long Island demonstrates, in microcosm, the successive development of many areas of Tennessee, from Native American use to disputed territory to agriculture to urban and industrial development.