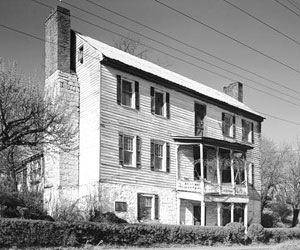 The Netherland Inn marks the early settlement and development history of the Holston River country of Sullivan County. Located on the Holston River in Kingsport, the Netherland Inn stood at a commercial port that served the developing economy of the frontier. It was a place where traders met, travelers rested, and local residents gathered to hear news from a distance. Originally part of the plantation of Colonel Gilbert Christian, in 1802 the lot on which the inn stands was sold to William King, for whom Kingsport is named. King owned a number of boatyards on the Holston and Tennessee rivers, where he built flatboats and shipped salt and other merchandise. He died in 1808, and in 1814 George Hale leased the boatyard adjoining the inn from King's estate, added a large wharf, and remodeled some buildings.
The Netherland Inn building was constructed between 1810 and 1820, but the exact date of construction and the identity of the builder are not certain. Possibly King or Hale built it. However, it may be that Richard Netherland, for whom the building was named, constructed the inn after he purchased the property in 1818.
The structure, a three-story, five-bay building with stone and brick exterior chimneys on the gable ends, was set into the side of a steep slope which angled down toward the Holston River, creating a large first floor perfect for storage. This first level was constructed of hand-cut limestone brought from a quarry northwest of the inn site. The second and third levels were made of large hand-hewn timbers, with brick nogging filling the spaces between the wall timbers. The exterior of the upper level was covered with whitewashed beaded poplar siding; walls were plastered throughout.
Floor plans for the three levels were similar; each had a large central hallway with rooms on both sides. The bar and taproom were on the first level. The second level housed the best sitting room and the dining hall. The third level contained the master bedroom and three sleeping rooms. The kitchen was attached behind the inn.
Both the river and the Great Stage Road brought guests to the Netherland Inn. During the flatboat season, farmers and merchants carrying goods down the river would use the facility, and teamsters hauling goods on the Stage Road frequented the establishment as well. Stagecoach drivers made the inn a regular stop, with approximately fourteen scheduled visits a week.
The inn remained in the Netherland family until 1904. Between 1906 and 1965, H. C. Cloud operated it as a boarding house. In 1967 the Netherland Inn Association purchased the building and restored it; in 1969 it was placed on the National Register of Historic Places.
Suggested Reading
Marie Day and W. Calvin Dickinson, "The Netherland Inn," East Tennessee Historical Society Publications 60 (1988): 67-77