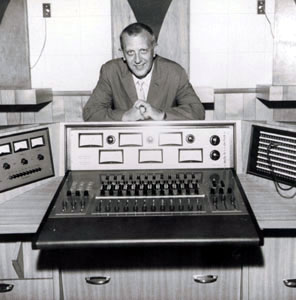 Owen Bradley, musician and producer, was one of the pioneers of the Nashville recording industry and a developer of the Nashville Sound. Born in Westmoreland, Sumner County, Bradley began his musical career early by assembling musical groups to play at private parties. The Owen Bradley Orchestra, once considered the premier Nashville dance band, played from 1940 to 1964.
Beginning in 1935, Bradley worked for WSM radio, first as a spot man and later as pianist and organist. By 1948 he was serving as Musical Director, coordinating personnel, planning arrangements, and leading the orchestra. Meanwhile, Owen started working with Paul Cohen, head of the country division of Decca Records. While serving as his apprentice, Bradley learned to produce records.
In 1958 Bradley left WSM to open the Nashville Division of Decca Records, serving as vice-president. When Decca and MCA merged their companies in the mid-1960s, Bradley continued in this position. Before retiring from MCA in 1976, he produced such country artists as Loretta Lynn, Conway Twitty, Kitty Wells, and Patsy Cline. Like his chief rival, Chet Atkins of RCA, Bradley sought to broaden the sound of country music to appeal to larger audiences. He utilized the traditional country sound in artists like Loretta Lynn, while in other artists like Patsy Cline, he expanded the sound to incorporate nontraditional accompaniments such as piano and soft strings.
In the early 1950s Owen and his brother Harold formed Bradley's Film Studio, first occupying a building near downtown and later a rented building in Hillsboro Village. In 1954 the brothers purchased a house on Sixteenth Avenue South, the area which would become Music Row. In an attached Quonset hut, they opened a recording studio. In it they recorded such mega-hits as Patsy Cline's "I Fall To Pieces" and Marty Robbins's "El Paso." The Bradleys sold the studio to Columbia Records in 1962. They constructed a new studio, Bradley's Barn, in Wilson County and continued to turn out the hits.
Bradley was inducted into the Country Music Hall of Fame in 1974 and continued working as an MCA producer until retiring in the early 1980s. As his health permitted, he completed freelance studio projects, such as k. d. lang's Shadowland album (1988).