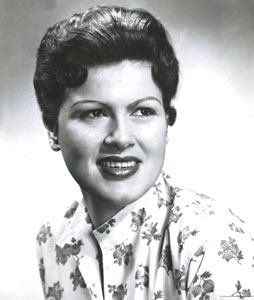 Country music star Patsy Cline was born Virginia Patterson Hensley on September 8, 1932, in Gore, Virginia. She was an entertainer from an early age but nearly lost her voice and her life when complications from a serious throat infection stopped her heart. She recovered and found herself with a voice of new depth and volume. When her father left the family in 1947, fifteen-year-old Virginia quit school to work in a drugstore during the day and sing with local bands at night. One of the local bandleaders, Bill Peer, first called her Patsy. She began to make a name for herself in the Washington, D.C., area and in 1949 wrangled a Grand Ole Opry audition with Jim Denny, but she was not offered a regular spot. She returned to Virginia, continued to build a local audience, and slowly made inroads into the music industry.
In 1953 she returned to Nashville as Patsy Cline, after marrying her first husband, Gerald Cline, and made an appearance on Ernest Tubb's Midnight Jamboree radio show. Then in 1954 she earned a spot on the syndicated radio program, Town and Country Time. Soon after, she signed a recording contract with 4-Star Music Sales. Cline hoped the contract would increase her appearance fees, but she made little or nothing from the deal. In 1955 Decca Records arranged to lease Cline's contract from 4-Star and paired the singer with Nashville producer Owen Bradley.
Cline had to be cajoled into recording the song that signaled a turning point in her career. She lambasted "Walkin' After Midnight" as a "Pop song" and resisted recording it. When she sang it on the Arthur Godfrey Talent Scouts show in January 1957, however, the "Pop song" became an overnight sensation, eventually reaching number three on the country charts and number fifteen on the pop charts. This success should have opened the door to stardom for Cline, but 4-Star owner Bill McCall failed to invest the time and money to follow up the hit.
In 1959 Cline moved to Nashville with her new husband, Charlie Dick, and their baby. When the contract with 4-Star ended in 1960, Cline signed a new contract with Decca and gained membership in the Grand Ole Opry. The Decca contract again placed Cline in the hands of Owen Bradley, who supplied her with a steady stream of material from the best songwriters in Nashville. This resulted in a string of pop-tinged hits penned by Willie Nelson, Hank Cochran, and Don Gibson. In 1961 Cline traveled to New York City with a troupe of Opry performers to play Carnegie Hall.
On March 5, 1963, Cline's rise to the top of the country and pop charts was cut short in a plane crash at Camden, Tennessee. The crash devastated the Nashville music community, taking the lives of Hawkshaw Hawkins, Cowboy Copas, and Randy Hughes in addition to Cline. Female singers of country, pop, and jazz remember Cline both for her unforgettable voice and her assertiveness in both personal and business relations. Her continued popularity three decades after her death testifies to the power of her rich voice and emotional style.