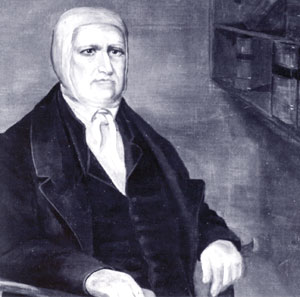 Minister and pioneer Samuel Doak founded the earliest schools and many of the Presbyterian churches of East Tennessee. The son of Irish immigrants, Doak was born August 1, 1749, in Augusta County, Virginia. He grew up on a frontier farm and began his education with Robert Alexander, who later founded the Academy of Liberty Hall (now Washington and Lee University). After attending an academy in Maryland, he entered the College of New Jersey (now Princeton), from which he graduated two years later in 1775.
Doak married Esther Houston Montgomery of Augusta County in October 1775 and taught at Hampden-Sydney College in the spring of 1776. There he studied theology under Samuel Stanhope Smith, president, and completed his theological training in 1777 at Liberty Hall. He assumed his first pastorate in Abingdon, Virginia, and also began to "ride circuit" in eastern Tennessee. In 1778 he settled in Tennessee in Sullivan County and was ordained a minister. In 1780 he moved to Washington County, where he formed Salem Church and a school, which was chartered as St. Martin's Academy in 1783, the first chartered school in the region. In 1795 it became Washington College.
Doak's best-known sermon was probably the one delivered at Sycamore Shoals in 1780 as the "Overmountain Men" assembled on their way to defeat British Colonel Patrick Ferguson and his troops at the battle of Kings Mountain. In 1784 he was a delegate to the convention that formed the short-lived State of Franklin.
Doak served as president of Washington College (1795-1818) before turning it over to his oldest son, John Whitfield Doak. Esther Doak had died in 1807, and in 1818 he moved with his second wife, Margaretta Houston McEwen, to Tusculum Academy (later Tusculum College) and taught there with his son Samuel W. Doak until his death on December 12, 1830. He is buried at Salem Church.