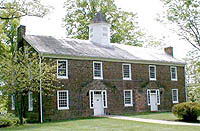 Tusculum College is the oldest college in Tennessee, having been chartered on September 9, 1794, by the legislature of the Southwest Territory. It was founded as Greeneville College by the Reverend Hezekiah Balch and Reverend Charles Coffin and later merged with Tusculum College, founded by the Reverend Samuel Doak and the Reverend Witherspoon Doak. After years of discussion, Tusculum became one of the earliest coeducational colleges when it admitted women in 1872.
Nine structures on the campus have been listed on the National Register of Historic Places. These include President Andrew Johnson Museum and Library, built in 1841, the oldest academic college building in Tennessee. It is the official presidential library and contains many of the personal papers and books of President Johnson, a Tusculum trustee. McCormick Hall, named for Cyrus McCormick, the inventor of the reaper, was built in 1887, and Virginia Hall, one of only three buildings in the South designed by architect Louis Sullivan, was built in 1901.
Prior to leaving to become president of East Tennessee College (now University of Tennessee, Knoxville), President Charles Coffin organized the college library, which according to contemporary records contained 2,000 volumes. In spite of the Civil War and heavy usage through 1910, when this special collection was withdrawn from circulation, Tusculum College still had 1,467 of those early volumes, dating back to an incunabulum printed in 1487. Authors include John Calvin, Cotton Mather, George Fox, Pliny the Younger, and books were donated by such notables as Jonathan Edwards and Thomas Jefferson.
Under the presidency of Dr. Robert Knott, who came to the college in 1989, Tusculum reconfirmed its tradition, combining education in the liberal arts and civic responsibility as "the civic arts." This approach brings together the classical civic republicanism of Cicero, for whose villa the college is named, and the Christian heritage of early American Calvinism. Students are encouraged to develop such virtues as physical and moral courage, self-control through moderation, justice (fairness), practical wisdom, faith, and compassion, with a strong emphasis on character development and "the common good." Following the practice of the Doak founders, students enroll in one course at a time in a concentrated schedule of half-day classes for eighteen days, a practice which permits extended community service projects and field trips.
The curriculum includes a number of multidisciplinary courses, while small class size encourages discussion among faculty and students. Graduating students are required to be competent in fourteen areas: analytical reading, writing, mathematics, computer literacy, public speaking, critical analysis, awareness of religious heritage, arts and society, scientific inquiry, historical mindedness, environmental awareness, self-knowledge, civility, and ethics of social responsibility. The faculty is responsible for all academic activities, and all staff members teach classes.
Tusculum College serves the community with its professional studies program, which takes undergraduate and graduate programs into East Tennessee communities to help working men and women earn degrees. By taking these classes at night and at convenient locations, adult students increase their knowledge in new fields or in their chosen profession.