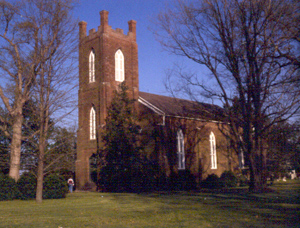 St. John's Episcopal Church
Maury County's landmark St. John's Episcopal Church, constructed between 1839 and 1842, exemplifies rural simplification of the prevailing Gothic Revival architectural style used in Episcopal churches of the antebellum South. Five sons of the North Carolina planter William Polk, who settled on shares of his Tennessee landholdings, contributed financially and materially to the church's construction. One of the brothers, Leonidas Polk, an Episcopal clergyman, conceived the idea of building a plantation chapel, drew the church's plans, and supervised construction on a corner of his land, where four of the Polk plantations intersected. Polk slaves built the church from materials found on the plantations.
Polk's design reflected the practical qualities of rural ecclesiastical architecture while incorporating aesthetic elements of the Gothic Revival style. Narrow slit vents in the limestone foundation allow the undercroft to breathe. Buttresses on each side wall provide structural support for the steeply pitched roof, while narrower buttresses brace the fifty-foot, three-story central tower on the front facade. The tower's low parapet and corbelled corner crenels resemble a medieval castle's battlements. Pointed arches over doorways and windows complete the style and direct the gaze up toward Heaven. The austere interior's simple white plaster walls and exposed roof beams and trusses lack the cruciform floor plan so typical of Episcopal churches. Instead, the pews in the nave are arranged with two side aisles and no central aisle. St. John's remains one of the best surviving examples of unaltered ecclesiastical architecture in Middle Tennessee with a historic cemetery adjacent.