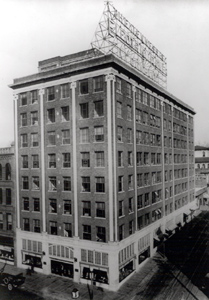 The Tennessee Electric Power Company (TEPCO) was the largest private-sector electrical power monopoly in Tennessee's early twentieth-century history. It was formed on May 27, 1922, when the Tennessee Power Company, Chattanooga Railway & Light, and the Chattanooga, and Tennessee River Power Company merged. Through outright absorption of smaller companies and stock ownership, TEPCO controlled the Toccoa Electric Power Company, Blue Ridge Corporation, Nashville Railway and Light Company, Lookout Incline Railway Company, Lookout Mountain Railroad Company, and the Tennessee Transportation Company. TEPCO was composed of the assets of forty-five different Tennessee companies, some dating to the nineteenth century.
The preponderance of hydroelectric power production units within the TEPCO system were already in operation when initial the merger took place in 1922 and later in 1929 when Southern Cities Corporation was taken over. For example, the Chattanooga and Tennessee River Power Company had begun construction in 1905 on the dam at Hales Bar on the Tennessee River. The Eastern Tennessee Power Company had constructed Ocoee No. 1 and No. 2 and the hydroelectric site at Great Falls on the Caney River all before 1916. A number of smaller, municipal plants in Middle Tennessee, built between 1901 and 1929, were controlled by either the Southern Cities Power Company (1918) or owned by the municipalities of Cookeville and Lawrenceburg. All would be absorbed by TEPCO in 1929. TEPCO, in turn, would be absorbed by the Tennessee Valley Authority as a result of a U.S. Supreme Court decision in 1939.
Another private Tennessee power company was the East Tennessee Light and Power Company (ETL&PC), which was organized in October 1929. On June 1, 1929, ETL&PC acquired the property and assets of a number of Tennessee companies, including Watauga Power Company, Bluff City Electric Light and Power Company, Butler Light and Power Company, and Roan's Creek Light and Power Company. ETL&PC, an interstate corporation, operated in two counties in Virginia, one county in North Carolina, and four counties in Tennessee, serving its primary consumption centers Bristol, Virginia, and Bristol, Elizabethton, and Erwin, Tennessee. It would operate a number of facilities until 1945, when the TVA would purchase its assets and add them to its public jurisdiction.
A third private sector firm, the Tennessee Eastern Electric Company (TEEC), was incorporated in June 1912. The company, soon thereafter, acquired the property and assets of the Watauga Electric Company, Greeneville Electric Company, and Jonesboro Electric Company. TEEC was the sole electrical power provider for Washington, Greene, Unicoi, Carter, and Sullivan Counties in East Tennessee, including the principal cities of Greeneville, Johnson City, and Jonesboro.
But TEPCO was the largest and most important of the early Tennessee electrical power companies. The result of TEPCO's formation was essentially that everyday life for many Tennesseans began to be characterized by a full spectrum of heretofore unknown household conveniences made possible by electricity. Moreover, work altered through the introduction of water pumps, electric dairy equipment, and electric-powered cabinetmaking and mining equipment. Though commonplace today, the insertion of these tools and conveniences into everyday life was the result of hydroelectric development in Tennessee from 1901 to 1933.
Suggested Reading
James B. Jones, Jr., "Pre-TVA Hydro-Electric Power Development in Tennessee, 1901-1933," The Courier 25 (1987): 4-6