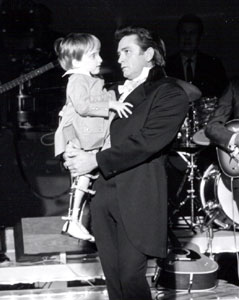 Television and Movie Performers
In both television and the movies, Tennessee performers have enjoyed distinguished careers, as evident in this volume's individual entries for Clarence Brown, Archie Campbell, Fred Coe, Tennessee Ernie Ford, Delbert Mann, Patricia Neal, Dolly Parton, Elvis Presley, Dinah Shore, and Oprah Winfrey. The state's music industry helped to create many of these opportunities. During the 1940s and 1950s stars from the Grand Ole Opry such as Roy Acuff appeared in a series of Hollywood B movies with a country music theme and/or setting. In the 1950s and 1960s weekly television programs, featuring Grand Ole Opry stars like Ernest Tubb and Porter Wagoner, were syndicated nationally and many shows were produced in Nashville. During the late 1960s and early 1970s network television programs with a country music theme, such as the influential and long-running Hee Haw and The Johnny Cash Show, were produced in Nashville. Hee Haw's stars included Archie Campbell, Grandpa Jones, Minnie Pearl, George Lindsey, and Junior Samples. After his television show, Cash appeared in and produced several movies. Later The Barbara Mandrell Show in the early 1980s provided television airtime for a host of country music performers. From the early 1980s to 2000 the most important Tennessee-based television network was The Nashville Network (TNN), which has featured such Nashville music industry stalwarts as radio and television host Ralph Emery, gospel music performer Gary Chapman, and talk show hosts Lorianne Crook and Charlie Chase. Writing the Oscar-winning theme music for the movie Shaft opened acting opportunities for rhythm-n-blues recording artist Isaac Hayes, who has appeared in such cult classics as Escape from New York.
The acting careers of many other Tennesseans, however, have had little reliance on music industry associations. Memphis in particular is either the birthplace or home of several important actors. Dancer Hermes Pan appeared in several movies between the 1930s and 1950s including A Life of Her Own and Pal Joey, but he is most significant as a major Hollywood choreographer. Pan, a friend and collaborator with Fred Astaire, was the choreographer for nine of the ten classic Astaire-Ginger Rogers movies. Kathy Bates took Academy and Golden Globe awards for Misery. After a distinguished stage career, Morgan Freeman won a Golden Globe for Driving Miss Daisy. Both Bates and Freeman have received major Hollywood roles in the 1990s. In 1971 Cybill Shepherd of Memphis first achieved stardom in the acclaimed The Last Picture Show and has since appeared in several major Hollywood films including Taxi Driver. Shepherd is best known for her television work, and her hits in Moonlighting during the 1980s and Cybill in the 1990s rank her as the state's most successful television actress. Other Memphis actors of note include George Hamilton, who has starred in movies and television since the 1960s, and Shannen Doherty, best known for her role in Beverly Hills 90210, a popular television show of the 1990s. Game show host Wink Martindale, a native of Jackson, graduated from the University of Memphis and hosted local radio programs before achieving stardom in daytime television.
Polly Bergen and John Cullum of Knoxville both have enjoyed distinguished careers on stage and screen. Perhaps best known today for the line of cosmetics and jewelry in her name, Bergen has starred on Broadway, in Hollywood movies, and on television in her career of fifty-plus years. In 1957 she took an Emmy for her performance in The Life of Helen Morgan. Cullom won a Tony Award for On the Twentieth Century and starred in the popular television program Northern Exposure in the 1990s. Since the 1980s Knoxville's David Keith has had a successful film and television career. The best-known Knoxville native in Hollywood today is director Quentin Tarantino, who is highly regarded for his recent work in Reservoir Dogs, Pulp Fiction, and Jackie Brown. One of the stars of the latter two movies is Samuel L. Jackson of Chattanooga. Jackson also recently starred in the remake of Shaft.
Nashville native Cynthia Rhodes performed at Opryland before receiving roles in several 1980s movies, including Flashdance. In addition to her role in television's Designing Women, Annie Potts of Nashville has had major Hollywood roles, including the comedy hit Ghostbusters. Claude Jarman Jr. won an Oscar in 1946 for The Yearling. U.S. senator, Nashville attorney, and Lawrenceburg native Fred Thompson also is a well-respected actor with films such as Marie and Hunt for Red October to his credit. A Hollywood actor turned Tennessee politician was Tex Ritter (1905-1973), a Texas native who gained fame as a singing cowboy in many movies of the 1930s. In his later years Ritter developed a country music following and joined the Grand Ole Opry in 1965. A resident of Nashville in this period, he unsuccessfully ran for the offices of governor and U.S. senator. His son, John Ritter, enjoyed a huge television success in the late 1970s as a member of the cast of Three's Company and has since appeared in many Hollywood films and television programs.
The state's smaller cities have produced several notable actors. Cherry Jones, a native of Paris, established the American Repertory Theatre in 1980 and won a Tony Award for The Heiress. She has recently gained considerable movie fame with notable roles in The Horse Whisperer (1998), Erin Brockovich (2000), and The Perfect Storm (2000). Michael Jeter of Lawrenceburg won a 1990 Tony Award for Grand Hotel. Dixie Carter of McLemoresville starred in the Designing Women television program. Sondra Locke of Shelbyville received an Oscar nomination for The Heart is a Lonely Hunter, later appeared in several hit movies during the 1980s, including Every Which Way But Loose, and recently directed the movie Ratboy. Clarksville native Frank Sutton's best-known role was the sergeant in Gomer Pyle USMC. Savannah native Elizabeth Patterson received an Oscar nomination for Hail, the Conquering Hero, a Preston Sturgis satire, in 1941. Ally Walker, who starred in NBC's Profiler, was born in Tullahoma.
Suggested Reading
Stephanie Vozza, "Home Grown Heroes," Tennessee Bicentennial Arts and Entertainment Festival Program (1996), 68-73